What are the distinguishing attributes of 2-EHA? (Ethylhexyl Acrylate)
2-Ethylhexyl Acrylate occupies an exclusive space in the range of commodity acrylic monomers. It is a hydrophobic acrylate monomer that readily copolymerizes with a wide variety of other acrylic and vinyl monomers to tailor specific high molecular weight copolymer properties for a diverse range of non-rigid applications. The primary distinguishing attribute of 2-EHA is a very low Tg, which facilitates low temperature flexibility, softness and tack in a copolymer, and differentiated adhesive properties.
Attributes of 2-EHA include:
A low Tg -65 °C, 2-EHA is used to balance hardness and tack, flexibility and strength, and low temperature properties.




Facilitates design of softness, tack and low temperature properties in copolymers




Excellent copolymerization characteristics




The branched hydrophobic side-chain promotes water and humidity resistance




Entanglement of the C8 side chain facilitates macromolecular entanglement (M

e

) and increase strength properties




Improves UV & water resistance and weathering; suitable for external applications.




A low order of toxicity




Availability and commodity economics



What are the major applications for 2-Ethylhexyl Acrylate?
2-EHA is used in copolymers, contributing very low temperature flexibility and performance, tack and softness, hydrophobicity and water resistance, good weathering characteristics and UV (sunlight) resistance. 2-EHA is one of the major base monomers used in the manufacture of copolymers for adhesives & sealants especially pressure sensitive adhesives, paint & coatings, printing ink binders, leather finishes and a myriad of other application areas.
What special attention is required in handling 2-EHA?
All acrylates monomers will readily self-polymerize if not properly inhibited, stored, and handled. Polymerization can be rapid and violent, generating large amounts of heat and pressure. For storage and transportation, 2-EHA is supplied with a polymerization inhibitor, usually MEHQ. In order for the inhibitor to function effectively, it is important to store stabilized acrylate monomers under air and to replenish dissolved oxygen over time. Never store under inert gases. The maximum recommended storage temperature is 35 °C (95 °F) to prevent the consumption of the inhibitor.
Direct contact with acrylic monomers like 2-EHA can cause irritation of the eyes, skin, nose and throat, and are often considered to be skin sensitizers. Use appropriate safety and personal protective equipment. 2-EHA is a flammable monomer; the closed cup flash point is high, at 87 °C (189 °F). We encourage our customers to have a comprehensive understanding of the EH&S information and safe product handling procedures when working with any acrylate monomers. Gantrade can supply a GHS compliant SDS for 2-EHA.
Where can I find additional safe handling information?
An intercompany committee prepared an excellent reference guide to essential information on the safe handling and storage of all inhibited acrylic monomers including 2-EHA. See the European Basic Acrylic Monomer Group (EBAM), Safe Handling and Storage of Acrylic Esters, publication.
How can I purchase High-Purity 2-Ethylhexyl Acrylate?
If you're looking to purchase high-purity 2-ethylhexyl acrylate, Gantrade Corporation is one of the main global suppliers of 2-EHA and other acrylic monomers for industrial use. Our packaging sizes can be 20 MT (44,080 lbs.) tank trucks, rail cars and drums. We maintain robust inventories in North America and Europe.
What are the Sales Specifications for 2-EHA?
Gantrade's Sales Specifications for high-purity 2-ethylhexyl acrylate are shown below: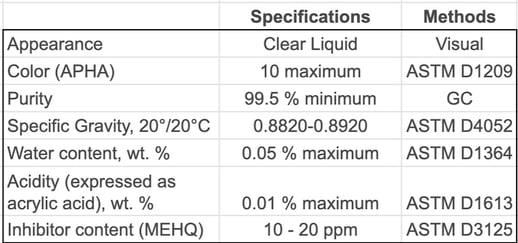 Learn more: Gantrade's Acrylic Monomers