What are the distinguishing attributes of MAA?
Methacrylic acid (MAA) is a polymerizable, unsaturated, monocarboxylic acid functional monomer. In copolymers, low levels (≤5%) of MAA improve latex stability, adhesive properties, wettability and pigment dispersion, as well as allowing for post-crosslinking reactions. At higher levels of MAA, copolymers are used as thickening agents and rheology modifiers, paper coatings, personal care products, oil field chemicals, processing agents and water-soluble polymers.
MAA is a clear, colorless liquid with a molecular weight of 86.06 g/mol, a freeze point of ca. 14 °C, a boiling point of 161 °C, and a viscosity of 1.5.
Where is MAA used?
MAA is used in copolymers to enhance performance in adhesives, caulks, sealants, paint, coatings, varnishes, printing inks, and textile finishes. Higher levels of MAA are used in copolymers for applications such as thickeners, dispersants, wetting agents, and flocculants. Virtually all acrylic copolymers produced commercially contain one of two key monomers - MAA or GAA.
How is MAA formed?
MAA is most often produced from acetone and HCN in a so called ACH process. MAA can also be produced from isobutylene by a two-step oxidation process.
What are some of the major points of differentiation between GAA and GMAA in copolymer systems?
The major differentiators between the two acidic monomers are associated with the lower price point for GAA, the copolymerization kinetics, and the lower contribution of GAA to the copolymer Tg vs. MAA. The table below summarizes some of the differences to consider when selecting an unsaturated carboxylic acid monomer for copolymerization.
| | | | |
| --- | --- | --- | --- |
| Properties | Units | Acrylic Acid | Methacrylic Acid |
| Price Point | | Lowest | Moderate |
| Tg of Homopolymer | °C | 101 | 228 |
| Heat of Polymerization | kJ/Kg,°C | 1079 | 768 |
| Reactivity Ratios | | Highly Variable | Highly Variable |
| Dimerization on storage | % at 30 °C | 1.2% per month | No dimer formation |
| pKa | | 4.25 | 4.65 |
| TLV (ACGIH) | ppm | 2 | 20 |
| Safe storage temp. range | °C | 15-25 | 18-40 |
The ultimate Tg of a copolymer can be estimated from the homopolymer Tg's of the component monomers. Thus, the lower Tg of GAA would favor flexible and soft or tacky copolymers; a higher Tg would be useful in hard polymer compositions. The pKa value is a measure of the strength and dissociation of an acid. The lower the pKa value, the higher the acidity.
What special attention is required in handling MAA?
MMA is supplied containing a polymerization inhibitor, MEHQ. MMA will readily self-polymerize if not properly inhibited, stored, and handled. Polymerization can be rapid and violent, generating large amounts of heat and pressure. Note that it is important to store these stabilized monomers under an air atmosphere and to replenish oxygen over time in order for inhibitors like MEHQ to effectively function.
MAA requires special attention to avoid freezing because the crystallized monomer excludes the inhibitor, and the solid will contain a deficiency of inhibitor and oxygen. During thawing process the contents must be mixed in order to redistribute the inhibitor and resupply dissolved oxygen. Temperatures must be limited to 35-45 °C. Unlike GAA, MAA does not form a thermal dimer over time. An intercompany committee prepared an excellent reference manual on the safe handling and storage of inhibited MAA.
For more information, please reference this intercompany committee reference manual on the safe handling of MAA or contact Gantrade at 201-573-1955.
What are the sales specifications for MAA?
Gantrade supplies high purity MAA in 204 Kg., 250 lbs. drums. The following chart provides our sales specifications.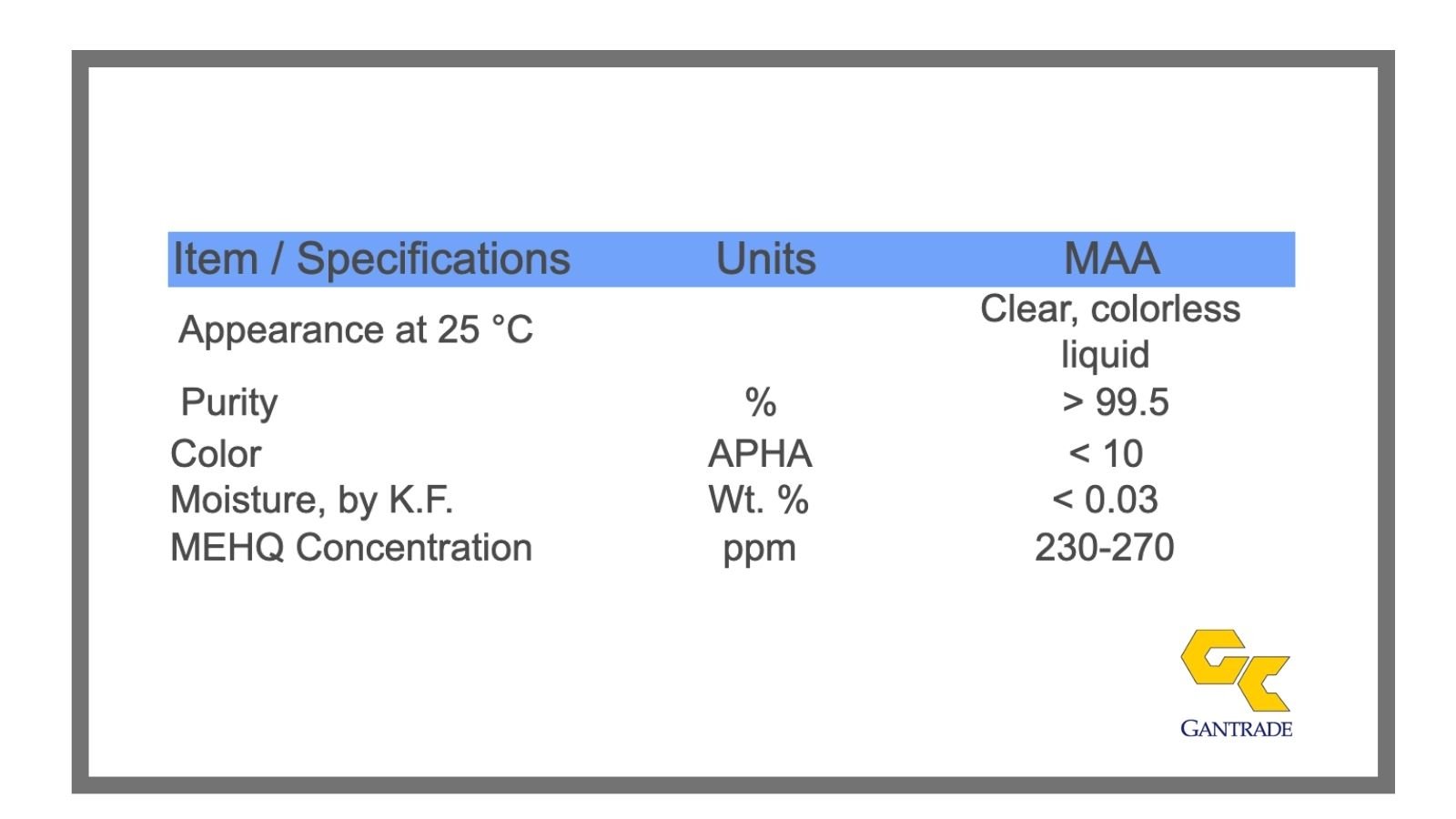 To understand which unsaturated carboxylic acid monomer best suits your needs, partner with Gantrade. Our wealth of technical knowledge and expertise, combined with our broad line of acrylate monomers, can guide you to tailoring the best solutions for your applications. Gantrade's global procurement and logistics teams can help to create value in your sourcing requirements. Contact Gantrade today.