MMA is the foundational monomer for acrylic homopolymer applications and is an essential comonomer in paint, coatings, adhesives, and plastic modifiers. In free radical-initiated copolymers, MMA elevates the Tg (glass transition) and contributes hardness, durability, strength, transparency, as well as UV and abrasion resistance.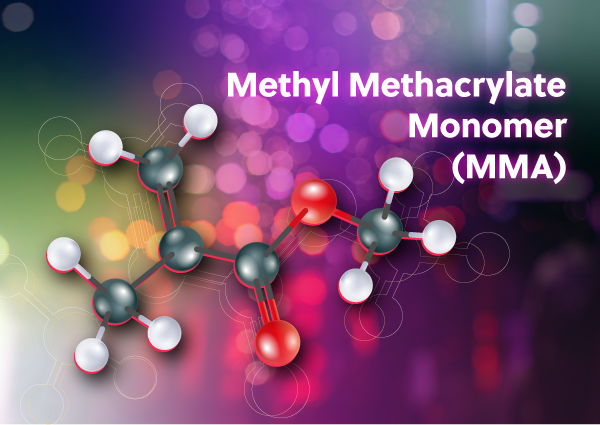 In this FAQ page, we answer some key questions regarding this important monomer, covering everything from applications to important safety and handling considerations.
What are the major applications for MMA monomer?
The principal use for MMA monomer is with polymethyl methacrylate (PMMA) homopolymer to produce cast and extruded acrylic sheets. PMMA sheeting products exhibit good optical clarity, high transparency, UV stability, hardness, toughness, and durability. The next largest use for MMA is as a comonomer in paints and coatings, such as exterior paints and paper andtextile coatings.
The major applications for MMA are shown in the chart below. The valuation for the global Methyl Methacrylate market was US$ 8.3 Billion in 2019, with a forecasted compound annual growth rate (CAGR) of ~5.2 percent.
Polymethyl methacrylate is widely used for glazing, computer screens, automotive lamps housings, and other applications where clear PMMA is significantly lighter in weight than glass. Plastic additives include methyl methacrylate-butadiene-styrene (MBS) resins used as PVC modifiers and transparent acrylonitrile-butadiene-styrene (ABS) resins. Coatings, adhesives, sealants, and inks are encompassed by a large number of MMA emulsion copolymer formulations. Engineered MMA adhesive is also an emerging growth application.
What are the attributes of MMA monomer?
MMA imparts characteristics like hardness, abrasion resistance, durability, strength, clarity, and UV resistance to the homopolymer PMMA and MMA copolymers. With a homopolymer Tg of 105 °C, MMA is the preferred "hard" monomer used in the design of acrylic and vinyl acrylic copolymers in a broad range of performance driven applications.
When it comes to co-polymerizations, the range of acrylic copolymers that can be used with MMA is extensive. Monomer feeds may include:
Butyl acrylate




2-Ethylhexyl acrylate




Other methacrylate esters




Acrylic acid and methacrylic acid




Vinyl acetate




Styrene




Butadiene



Monomer compositions designed for copolymers are driven by the desired Tg of the resin, usually ranging from -30˚C to > 30˚C. For reference Tg values of some comonomers, please consult the table below. This table illustrates the unique value of MMA as a "hard", high Tg monomer.
| | | | | | |
| --- | --- | --- | --- | --- | --- |
| MMA | Sty. | GAA | VAM | BA | 2-EHA |
| 105°C | 100˚C | 87°C | 35°C | -45˚C | -55˚C |
Reactivity ratio data allows for a mathematical prediction of copolymer compositions. The free-radical reactivity ratios for MMA copolymer systems have been well studied and are available in the literature. Co-polymerizations with MMA exhibit a high propensity towards alternating sequences.
What are the safety, handling, and storage principles for MMA?
Methyl methacrylate hazards include skin sensiti­zation, eye irritation, inhalation, flammability, and the potential for uncontrolled and rapid polymerization. However, the chemical industry has handled MMA safely for more than 80 years. When properly inhibited, MMA is stable under the recommended storage conditions. The most effective response to an uncontrolled polymerization is mixing of a free-radical shortstop like phenothiazine (PTZ).
Users must apply the following principles in handling and polymerization of MMA.
Use and maintain proper inhibitor levels appropriate to the expected range of storage times and temperatures. Inhibitors are consumed over time.

MMA must never be handled or stored under an inert atmosphere. The presence of oxygen is required for the inhibitor to function effectively.

Observe the recommended storage time and temperatures to prevent depletion of the inhibitor, below 40°C (104°F) and prefer­ably below 35°C (95°F).

Use proper MOCs and keep tanks, reactors, and piping, thoroughly cleaned.


Prevent contact with amines, strong acids, alkalis, silica, alumina, oxidizing agents, UV, and initiators, which can cause spontaneous polymerization.
Gantrade's Safety Data Sheet for MMA contains up-to-date information on safety, handling, storage, and industrial hygiene. An excellent manual on safe handling and storage of MMA has been published by the Methacrylate Producers Association (MPA) and the Methacrylates Sector Group of the European Chemical Industry Council (CEFIC) since 2007.
What inhibitors are used with MMA and can they be commingled?
The various grades of MMA primarily depend on the type and amount of inhibitor used. The most common inhibitors are MEHQ and Topanol-A. There are regional preferences for using these respective inhibitors. For example, MEHQ is more prevalent in Europe and the Americas, while Topanol-A is more traditionally used in Asia and the Middle East.
The question is often asked, can MMA stocks with one stabilizer be mixed with stocks containing the other stabilizer? The first issue to address is regulatory requirements covering the stabilizers allowed in specific applications such as food related end-uses. The second question is the compatibility of MEHQ and Topanol-A, p-methoxy hydroquinone and 2-tert-butyl-4,6- dimethylphenol, respectively. Both are hindered phenols and perform as inhibitors by the same mechanism. Both require the presence of oxygen to be effective. MEHQ and Topanol-A are compatible and MMA stocks containing these inhibitors can be safely co-mingled.
If you have questions about substituting or commingling MEHQ-stabilized MMA with Topanol-A stabilized MMA, contact Gantrade, and we would be happy to answer your questions.
How can I purchase high-purity MMA?
If you're looking to purchase high-purity MMA, Gantrade Corporation provides this monomer in 20 MT (44,080 lb.) bulk tanks for industrial use only. The purity of our methyl methacrylate is ≥ 99.9%, and our MMA contains only traces of water (0.035% max.) and acidity as methacrylic acid (0.0035% max.).
For storage and transportation, we've added an inhibitor, usually 15-18 ppm of Topanol A, which is FDA compliant and non-staining and exhibits low volatility.
See the table below for Gantrade's specifications for methyl methacrylate.
Sale Specifications: MMA
| | |
| --- | --- |
| Item | Specifications |
| Appearance at 25 °C | Clear, free of suspended matter |
| Purity by GC, % | ≥ 99.9 |
| Color, Pt-Co | ≤ 10 |
| Moisture weight % by K.F. | ≤0.050 |
| Inhibitor Concentration, ppm Topanol A or MEHQ | 10-20 |
| Acidity, % | ≤0.0050 |
Whether you have questions about the properties of methyl methacrylate or want additional information about Gantrade's product offerings, contact Gantrade to speak with us about your specific needs.