Adipic acid dihydrazide (ADH) is an effective crosslinking agent, curative and hardener. ADH's has a melting point of 180 °C and a molecular weight of 174. It is an excellent latency hardener for epoxy formulations and resins.
The chemical structure of ADH and the reactive cure sites are shown below.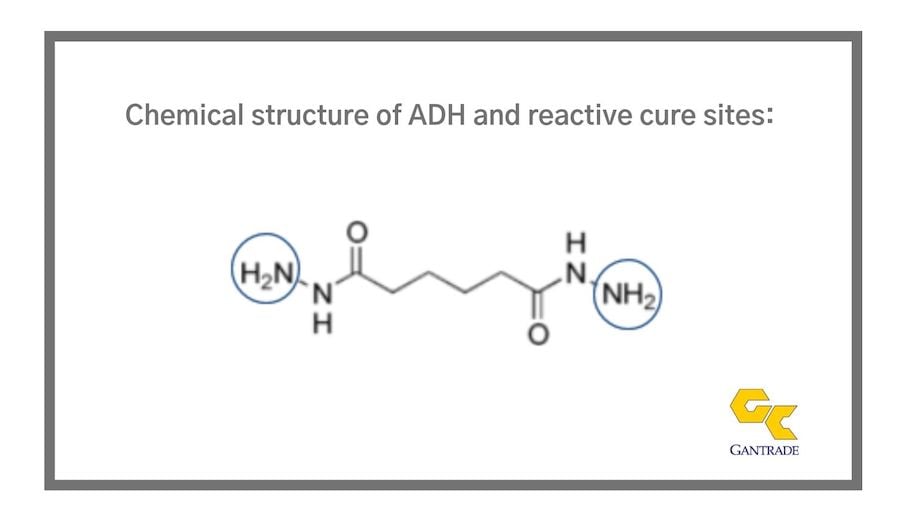 What are the key attributes of ADH in epoxy formulations?
Cure rate profiles of ADH are facilitated by the high nucleophilicity of the amine function (good reaction characteristics & complete cure profile). Yet ADH-epoxy systems can be B-staged. With ADH cure, epoxy resins exhibit excellent toughness, shear strength, flexibility, and adhesive properties. Using ADH with a standard liquid bisphenol A epoxy resin (DGEBA), Tg's of 140-160 °C are achievable.
What is the epoxy equivalent weight of ADH?
The first thing to note with ADH in epoxy formulations is that each of the primary amine end groups has a functionality of two, so the ADH molecule has an equivalency of four with respect to an epoxy moiety. Accordingly, the active hydrogen equivalent weight of ADH is 43.5. When formulated with epoxy resins, the ADH index can range between 0.85 - 1.15 of stoichiometric proportions, without a significant effect on mechanical properties.
What are the curing conditions with ADH?
The cure temperature for epoxy resins (glycidyl types) formulated with ADH is influenced by the melt-out temperature of the ADH. The high melting point of 180 °C allows for an extended pot life at low temperatures. Storage stability can be up to six-months at room temperature, with cure times of about one-hour at 130 °C. Cure rates can be accelerated using tin or titanate catalysts, or imidazoles.
What are the advantages of B-staging?
One-component ADH epoxy systems can be partially cured or "B-staged", and later fully cured. B-staging provides handling, processing, and fabrication advantages. One component B-staged epoxy resins are used in coatings such as powder coatings, adhesives including hot melt adhesives, molding compounds and in fiber reinforced composites. Glass and carbon fiber prepreg obtained by a hot melt impregnation method are used in the fabrication of sporting goods, wind turbine blades and aircraft/aerospace components.
What are the characteristics of ADH cured epoxy adhesives?
Using ADH as a latent curing agent, rigid and flexible epoxy adhesives can be formulated as one component systems that can be stored at room temperature. Rigid epoxy adhesives are based on bisphenol A and novolac epoxides. These rigid adhesives exhibit excellent cohesive and adhesive properties to a wide variety of surfaces. Flexible epoxy adhesives produce more pliable bonds which better accommodate bond line stresses or differential substrate expansion rates. Flexible epoxy resins include poly(oxypropylene) epoxides and other aliphatic di- and tri-epoxy resins. Semi-rigid epoxy-based adhesives utilize mixtures of both classes of epoxy resins or rigid formulations using flexibilizers.
If you are ready to leverage ADH in your technology, Gantrade maintains good, high-quality inventories of this intermediate. In addition, we readily provide product information, technical support, and product sales information, so you can make an informed decision. Contact Gantrade to speak with one of our team members to learn more about the potential of ADH in your applications.