Methyl acrylate is a special acrylic monomer and the fourth most-used of the basic acrylic esters.
We see MA used in the production of paints and coatings, adhesives and sealants, thermoplastic resins, chemical synthesis, and additives.
What are the attributes of methyl acrylate?
MA is often used in copolymers to achieve a desired balance of hardness, softness, tack, flexibility, and strength properties. When used as a comonomer in polymerization with other (meth)acrylic and vinyl monomers, MA offers the following attributes in the associated copolymer:
With a homopolymer Tg of +10 °C, MA can increase the hardness and strength, and also reduce tack versus the homologous acrylates.

Good water resistance.

Excellent UV, sunlight, weathering resistance, and transparency.

Excellent copolymerization characteristics with other (meth)acrylates and vinyl acetate monomer.

Commodity economics and excellent availability.

Higher polarity, which increases adhesion to more polar surfaces.

With acrylonitrile, MA is used to reduce the crystallinity and melting point via copolymerization.
What are the major uses of methyl acrylate?
The rich diversity of applications for methyl acrylate in homo- and copolymers include:
Acrylic and vinyl acrylic copolymers for paints and coatings, adhesives, inks, and more.

Poly(methyl acrylate-co-methacrylic acid) used in rheology modifiers.

Poly(methyl acrylate) rubber and gum thickeners.

Poly(ethylene-co-methyl acrylate) (EMA) thermoplastics for film and adhesives.


Poly(acrylonitrile-co-methyl acrylates) for processable fibers and films.

Synthetic intermediates.

What are the differences between poly(methyl acrylate) and poly(methyl methacrylate)?
Poly(methyl acrylate) (PMA) and poly(methyl methacrylate) (PMMA) differ significantly in their properties. With a Tg of +10 °C, PMA is a soft, tough, rubbery material at room temperature. PMMA, on the other hand, with a Tg of 105 °C (atactic), is a strong, hard, clear plastic material often used as shatter-resistant glassing.
What are the safety, handling and storage principles for MA?
Methyl acrylate hazards include skin sensiti­zation, eye irritation, inhalation, flammability, and the potential for uncontrolled and rapid polymerization. However, the chemical industry has handled MA safely for more than 80 years, and when properly inhibited, MA is stable under the recommended storage conditions.
The following principles must drive the handling and polymerization of MA:
Use and maintain proper inhibitor levels, as inhibitors are consumed over time.

Observe the recommended storage time and temperatures to prevent depletion of the inhibitor, below 35°C (95°F) and prefer­ably below 30°C (86°F).
Use proper MOCs and keep tanks, reactors, and piping thoroughly clean
Prevent contact with amines, strong acids, alkalis, silica, alumina, oxidizing agents, UV and initiators which can cause spontaneous polymerization.

You must never handle or store MA under an inert atmosphere, as the presence of oxygen is required for the inhibitor to function effectively.
Gantrade's Safety Data Sheet for MA contains up-to-date information on all concerns relevant to safety, handling, storage, and industrial hygiene.
What are the methyl acrylate sales specifications?
The purity of Gantrade's MA is greater than 99.5 percent. Our methyl acrylate contains 15 ± 5 ppm of MEHQ inhibitor.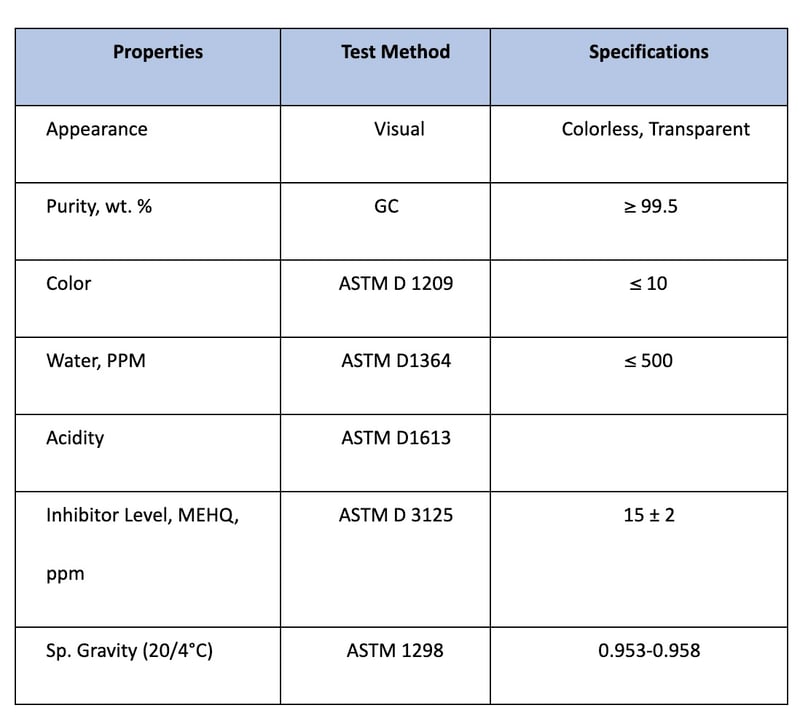 If you are looking to purchase high-purity methyl acrylate, Gantrade Corporation markets this monomer in 20 MT (44,000 lbs.) ISO Tanks and in 200 Kg. (441 lbs.) factory-sealed drums for industrial use only. At Gantrade, we offer a broad line of high-quality acrylic and vinyl monomers, supported by knowledgeable professionals. Contact us today to discuss your needs for MA and other chemical products.