What is MPO?
MPO stands for 2-Methyl 1, 3-Propane Diol (CAS 2163-42-0). It is a versatile non-toxic short chain diol possessing two primary hydroxyl groups. It exhibits a high boiling point of 212°C. At room temperature it is a liquid - it has a freezing point of -54°C. MPO is much less hygroscopic than BDO.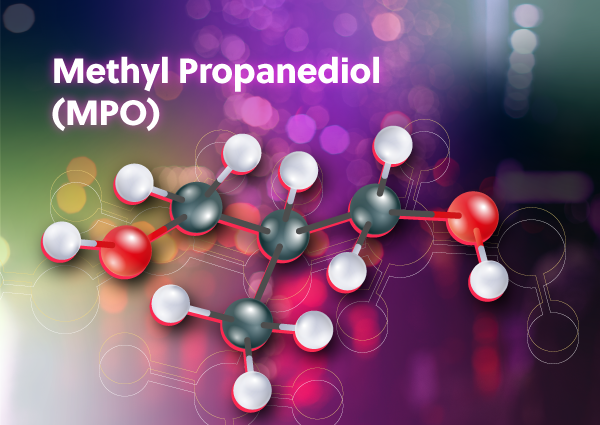 What is MPO used for?
2-Methyl 1, 3-Propanediol (MPO) can be used in the following applications:
Polyester Resins (Unsaturated / Saturated)
Neopentyl Glycol (NPG)
Polyester Polyols (Replaces 1, 4-Butane Diol (BDO) in aliphatic polyester polyols)
Polyurethane Chain extender (Replaces BDO)
Liquid detergents (Replaces Propylene Glycol)
Diluent for Amine Catalysts
What are the key value benefits of using MPO in Unsaturated and Saturated Polyester Resins (UPR/SPR)?
MPO...
Inhibits crystallization in polyesters and improves compatibility & handling.
Has good solubility in styrene and therefore less styrene is needed.
Gives toughness and flexibility to the finished polyester.
Shows improved moisture resistance and weatherability (especially in Marine UPR).
Reacts quicker than other polyols to improve reactor productivity and gives lower color polyesters due to the lower reaction temperature required.
Exhibits good compatibility with polyethers and polyester without phase separation.
What are the packaging options for MPO?
Gantrade supplies MPO in 200 kg (441 lb) factory sealed iron drums and 20 MT (44,080 lb) bulk ISO tanks. The minimum order size is one drum. Samples are available in 1 kg containers.
What is Gantrade's value proposition for MPO?
Gantrade's partner for MPO is Dairen Chemical Corporation (DCC). DCC is the largest global producer of MPO with five individual production facilities across Taiwan and China. DCC is back integrated to propylene as the feedstock. Gantrade maintains inventories of MPO in the USA and Europe at multiple warehouse locations. We offer value in terms of pricing, delivery, service, including technical support for new product development, and knowledge sharing.
What is the shelf life of MPO?
The shelf life of MPO is 2 years if stored in the unopened, original containers and kept at ~ 20ºC. MPO is slightly hygroscopic.
What are the handling requirement for MPO?
Gantrade Corporation encourages its customers to have a comprehensive understanding of the health, safety, environmental and regulatory information on its products before handling and disposal. Training on the proper handling, storage and inventory requirements is encouraged. To obtain a Safety Data Sheet (SDS) and other handling or product related methyl propanediol information, please contact us using the contact form on www.gantrade.com/mpo or call us at 201-573-1955. Always prevent electrostatic discharge and ensure adequate ventilation in the work and storage areas.