4,4'-Methylene-bis(ortho-chloroaniline) (MOCA)
CAS Number: 101-14-4


General Description
Methylene-bis(ortho-chloroaniline) (MOCA) in granular pellet form is used as a curing agent for urethane and epoxy resins. MOCA has the general structural formula below: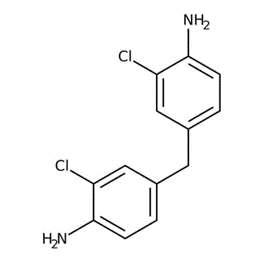 MOCA has a minimum purity specification of 99% by GC. Like all MOCA products, the material contains isomers like 2,4'- and 2,2'-methylene-bis(2-chloroaniline) and triamines, which are effective curatives.
The granular pellet form has a low propensity to cause dust and is environmentally beneficial. Gantrade uses an "imported test pad and solution" to test and clean the external package drum surfaces preventing possibility of contamination of the external drum surfaces.
Please fill out the form on this page to receive a full TDS for MOCA which includes:
Sales Specifications
Applications
Safety & Handling
Packaging