All polyol classes used in polyurethanes have a set of unique attributes that make them useful as the soft-segment in specific polyurethane elastomer applications. Selecting the best polyol for a specific formula can be the difference between making a high-quality product or one that's low-performing. The key for proper material selection is a good understanding of the inherent characteristics of each polyol chemistry.
What are the polyester-polyol options that exist in selecting the best polyol for a specific polyurethane application?
CASE (Coatings, Adhesives, Sealants, and Elastomers), foam and elastic fiber applications all utilize a diverse family of polyester polyols that includes:
Adipate based polyester polyols
Aromatic polyester polyols
Polycaprolactone polyols
Polycarbonate polyols
The selection criteria includes economics and the performance attributes required in the polyurethane elastomer. Polyester based urethane parts, for example, are used for their strength properties and toughness, durability, performance at higher temperatures and retention of properties under adverse chemical and environmental exposures.
What are the key attributes of polyurethanes based on polyester polyols?
Compared to polyether polyols in polyurethane elastomers, polyesters offer higher physical properties, cut, tear and wear resistance, better sliding abrasion and flex fatigue resistance. They are tough and durable.

Polyester polyols in a polyurethane also exhibit very good resistance to oil, grease, fuels and nonpolar solvents.

The polyester backbone displays good thermo-oxidative stability which makes them better suited for high-temperature application.

Polyester based urethane elastomers show good adhesion to commonly used substrates.

Vibration dampening and shock absorption properties

Many adipate glycol polyesters are FDA-compliant, which makes them a good option for urethane articles safe to use in food contact applications.
Click on the image below to download a Polyester Polyols Brochure:
The inherent properties of polyester polyols make them an excellent choice for the following industries and applications for polyurethane elastomers:
Oil field and mining applications: screens, conveyor belt scraper blades
Wheels, industrial and printing rolls
Pipeline pigs
Adhesives
Footwear and shoe soles
Industrial applications requiring good thermal stability
Food contact (FDA compliant)
TPUs for automotive and cable jacketing
Rigid and spray foam for the aromatic polyester polyols
What are the major markets for Polyester Polyols?
The first chart below shows the major markets for aliphatic polyester polyols. In the elastomers space, footwear and shoe soles are the largest segments.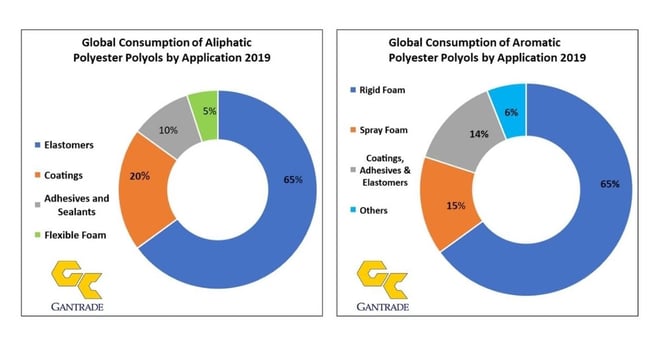 The demand for aromatic polyester polyols is predominantly linked to the production of polyurethane rigid foam. Rigid foam is the main application field with the percentage of 65% market share in 2019. Applications include insulation foam in the building and construction industry and refrigeration.
What are the basics of Aliphatic Polyester Polyols?
Aliphatic polyester polyols are engineered using a variety of dicarboxylic acids, mainly adipic acid, and diols, in a broad range of molecular weights, enabling formulators to customize to desired properties. Diols range from neopentyl glycol (NPG) and 2-methyl-1,3-propane diol (MPO) for increased hydrolytic stability and amorphous characteristics, to ethylene glycol (EG), diethylene glycol (DEG), propylene glycol (PG), butanediol (BDO), hexanediol (HDO) and co-diol polyol EG/BDO copolyester.
MPO polyesters exhibit excellent hydrolytic stability and low water absorption. The chart below compares the hydrolytic stability of various adipate polyester polyols admixed with 10 wt. % water and subjected to heating at 90°C over 12 hours. Hydrolysis rates are determined by the generation of acidic moieties. Generation of acid, as measured by the acid number, demonstrates the significantly greater resistance to hydrolysis of MPO and NPG based adipate polyester polyols.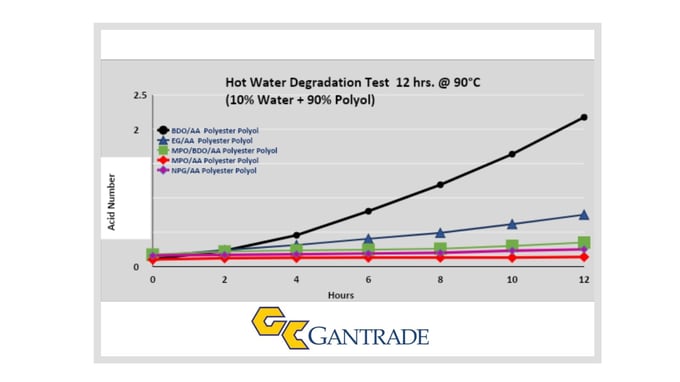 What are the basics of Aromatic Polyester Polyols?
Aromatic polyester polyols are manufactured by using low cost building blocks including phthalic anhydride as the "diacid" with terephthalic acid or crude recycled polyethylene terephthalate. There are esterified with an excess of low cost standard diols such as EG, DEG and PEG, etc. Aromatic polyester polyols exhibit good hardness values, abrasion resistance and hydrolytic stability. Higher functionality is achieved by incorporating TMP or pentaerythritol (PENTA) to improve chemical resistance. Aromatic polyester polyols are a critical component of polyurethane and polyisocyanurate foam systems. The high aromatic contents of these diols allow for lower levels of flame retardant additives required in the building and construction foam market.
How are the polycaprolactone polyols differentiated from adipate based aliphatic polyols?
Polycaprolactone polyols are a special class of polyester polyols, produced using an exclusive Ring Opening Polymerization (ROP) process in which a low molecular weight diol or triol (initiator) is reacted with a six-carbon cyclic-ester (lactone) monomer, caprolactone . A wide variety of glycol initiators are used to allow customization of the performance profiles of the caprolactone polyols and their polyurethane elastomers. In the polyol process, the lower reaction temperatures required, as well as the absence of organic acid reaction intermediates, affords PCL polyols with very low acid values (contributes to hydrolytic stability), low polydispersity (contributes to low viscosities), perfect primary hydroxy end-functionalities (good stoichiometry control) and availability of exact functionality triols (controlled crosslinking for improved chemical and thermal resistance)
Polycaprolactone polyols are used in polyurethane elastomer applications where high durability, performance over broad temperature ranges, good hydrolysis resistance, and excellent elastomeric properties are required. They are generally selected for urethane applications where high tensile strength, excellent cut, tear, and flex fatigue resistance, good sliding abrasion, good chemical resistance to oil, grease, nonpolar solvents and wet environments, and high temperature and oxidative stability are needed. When compared to adipate-based polyester polyols, the polycaprolactone polyols exhibit a great versatility in the targeted design of polyurethanes requiring demanding performance attributes and service life.
Polycarbonate diols represent the ultimate generation of performance diols for polyurethane elastomers. Structurally, polycarbonate diols are linear, aliphatic polyols with the carbonate linkages. Polycarbonate diols exhibit superior hydrolytic stability because they absorb very low levels of moisture and generate CO2 on hydrolysis, without producing an acidic moiety. Acid moieties generated through hydrolysis, autocatalyze the hydrolysis of the polyester-based polyurethane. Polycarbonate diols attributes include excellent resistance to heat, hydrolysis, weather, abrasion, aging stability, and extreme durability.
Polyurethane properties achievable with polycarbonate diols surpass the performance of polyurethane elastomers based on other polyols. The polycarbonate diols are high in cost, but Gantrade offers miscible blends with PTMEG polyols that balance costs with achieving superior performance dimensions. The crystalline regions of the polycarbonate diols exert a significant influence on the properties of the PTMEG soft segment in a polyurethane elastomer.
To explore which polyester polyol is best suited for your unique needs, partner with Gantrade. Our team, armed with a wealth of technical knowledge and expertise, can guide you to the best solutions for your applications. Contact Gantrade today to get started. We offer a wide portfolio of products to achieve your polyurethane elastomer requirements.