The market size for polymeric and resin binders in the global printing ink market was estimated to be over 1,200,000 MT in 2020, with a CAGR of about five percent. A major driver of this growth comes from the packaging industry, due to increases in consumer spending and online shopping, as well as demand for processed and packaged foods and beverages.
In addition, increased use of water-based inks is promoting market growth, off-setting environmental and health concerns regarding solvent-based inks in addition to strict environmental protection policies. Water-based inks are projected to overtake solvent-based inks due to environmental regulations, the reduction of volatile organic compounds (VOCs) in the pressroom, and improvements in overall print quality.
Ink formulations are complex mixtures, consisting of four basic component classes: pigments, polymeric binder resins, solvents or an aqueous dispersant media, and additives, such as surfactants, waxes, and rheology modifiers that enhance print quality. The purpose of the resin binder is to disperse and carry the ink pigment to the substrate, stabilize the pigment and additives dispersion to prevent settling, and provide print properties such as ink transfer behavior, setting, and drying characteristics. The binder also contributes surface appearance and gloss, strength and flexibility, chemical and solvent resistance, and also rub resistance. Ink binders can be categorized into the following polymer and resin types: acrylics, polyurethanes, polyamides, modified resins, hydrocarbon resins, and modified cellulosics. The figure below shows the global market share by volume for the indicated binder resin families in 2020.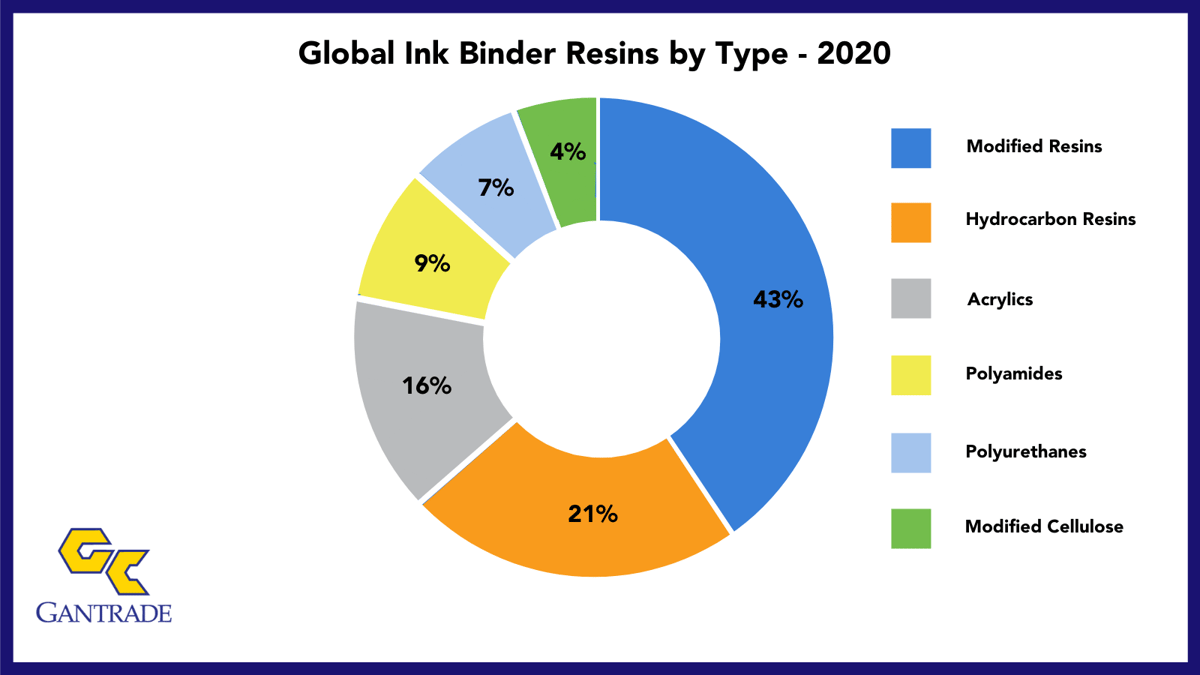 The modified rosins segment accounts for a large share of the market, due to the low price and wide availability of modified rosins. Gum rosin and tall oil-based resins are derived from renewable resources. They can be modified with maleic and fumaric acid, phenolic resins, acrylics, and more. Hydrocarbon resins include DCDP resins, aromatic C9 resins, and aliphatic C5 resins. The polyamides are reaction products of dimer fatty acids or tall oil fatty acids with polyamines.
Acrylic resins cover a broad category that includes styrene acrylic copolymers, epoxy acrylic resins, polyester acrylates, vinyl acrylic copolymers, and hybrid urethane acrylates. They can be thermoplastics or self-crosslinking resins.
Ink types fall into the following categories of ink vehicles: water-based, solvent-based, oil-based, and UV-cured. The figure below indicates the market share of these four technologies in 2020.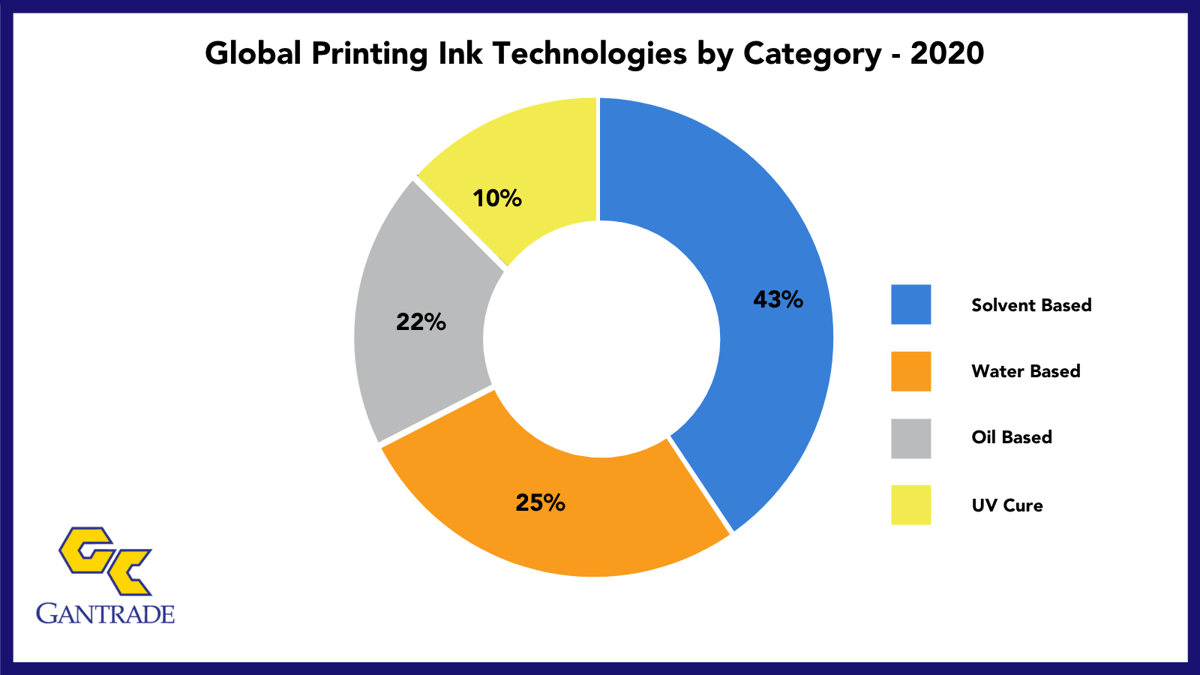 Solvent-based printing inks consume the largest share of ink resins. Volatile organic solvents include ethanol, isopropanol, acetate esters, glycol ethers, and aliphatic hydrocarbons. However, consumers are increasingly shifting towards environmentally friendly alternatives like water-based and UV-cured ink technologies. Considerable progress has been made in printing with water-based inks onto non-absorbent, hydrophobic films (treated and untreated) used in flexible packaging, such as BOPP and PET. Based on new developments in binder resin chemistries, ink formulations, and flexographic and gravure printing, water-based systems are approaching the performance standards of solvent-based inks. Resin technologies associated with controlled self-crosslinking chemistries, oligomeric polymers, and bimodal, particle-size lattices have driven these developments. Lower-molecular weight macromolecules allow for an increase of end-group functionality which facilitates wet-out.
Rheology control using new generation rheology modifiers is another advancement. While environmental factors have formed the impetus for the switch away from solvent-based systems, water-based systems also afford benefits from avoidance of capital outlays for solvent recovery equipment and associated operating expenses.
Oil-based printing inks are generally alkyd resins based on linseed, soya, and other naturally drying oils.
Gantrade markets a broad line of performance and specialty monomers, as well as crosslinking technologies that are the essential building blocks for binders used in the inks industry.
We offer Safety Data Sheets on most of the products listed below. Click on the SDS Request image and request one.
Our product offerings include the following:
Vinyl and Acrylic Monomers
Methyl Methacrylate (MMA Monomer)




Methyl Acrylate (MA)




N-Butyl Methacrylate (BMA)




N-Butyl Acrylate (BA)




2-Ethylhexyl Acrylate (2-EHA)




Glacial Acrylic Acid (GAA)




Glacial Methacrylic Acid (GMAA)

Vinyl Acetate Monomer (VAM)


Vinyl Neodecanoate Monomer (VND)
Crosslinking Monomers
Diacetone Acrylamide (DAAM)


Acetoxyaceto Methacrylate (AAEM)


Adipic Dihydrazide (ADH)

Silanes
Methacryloxypropyltrimethoxysilane (A-174)


Vinyltrimethoxysilane (A-171)

Vinyltriethoxysilane (A-151)
Note: We've partnered with a specialty chemical manufacturer to offer a broad portfolio of surfactants, rheology modifiers, and dispersant chemistries. As part of our commitment to collaboration and serving our customers with expertise and industry knowledge, our partnership with Tiarco-RST helps advance performance dimensions in emulsion-based inks.
At Gantrade, we aren't just a supplier of performance and specialty monomers. We're an independent supplier with a global reach, and we partner with manufacturers so that we can offer creative solutions and help our customers navigate market conditions.
If you'd like to get your project started today; it's easy. Submit a Request online or give us a call at one of our global offices.