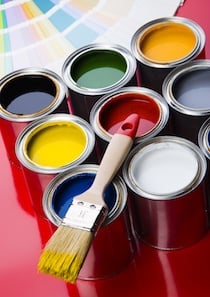 N-butyl acrylate (BA) is the largest-volume acrylate ester used in the production of all-acrylic, vinyl acrylic and styrene acrylic copolymers. BA offers price-value and accounts for about 60 percent of the global acrylic ester monomer demand, with a consumption volume of over 2,000 kilo tons.
The other major acrylate esters include methyl acrylate (MA), ethyl acrylate (EA), and 2-ethylhexyl acrylate (2-EHA). Butyl acrylate is used as a "soft-monomer" to improve low temperature properties and toughness. The major markets for BA are in paint & coatings, such as architectural and automotive coatings, followed by adhesives and sealants market. Other application areas include inks, textile, paper and leather finishes, and caulks.
Another significant and growing segment for BA is in thermoplastic ethylene acrylate copolymers (EAC), at BA levels up to 35 % in copolymers. EBA copolymers are used as a impact modifier and processing aid in thermoplastics improving properties such as toughness, flexibility, molding characteristics and part appearances. End use applications include packaging, multilayer films and adhesives.